Original Art works in Australia
These range in price depending on the time taken (days to weeks) and mediums used (oil paints or Acrylics).
Installments possible. Worldwide shipping available.
Each one has a story and the brushstrokes, visible in real time, emanate a deeper energy and vibrancy than a print cannot.
Please contact me for interest and we can work something out.
Prices displayed in USD conversions here.
'Ecstatic Harmony'
46 x 46cm  (4cm deep)
Acrylic on canvas
Gallery Price : US $420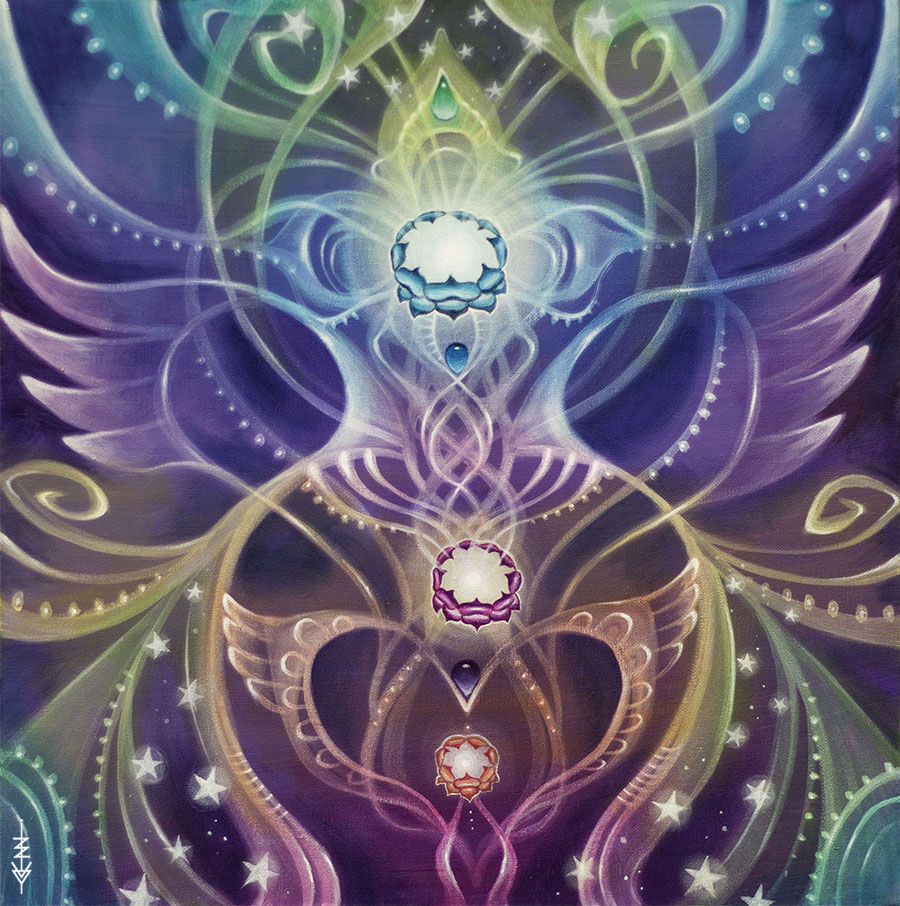 Energetic Meaning : Soul Star Chakra: Merging with the Divine
Transcendence, letting go, being filled with divine light, channelling, karmic records, the bridge between the spiritual and the physical realms, ascension.
This image captures the merging of time beyond space and kaleidoscopic wisdom that penetrates our being. We have lived in many worlds. All interconnected, they uphold the lessons they carry as messages of transformation. Their synergy creates the expansion of the Universe. Gaze into the place where the light between our stardust can become anything, and collective evolution is part of a grander story. When we simply let go, we become all that we have been seeking and glimpse the greater dream.
'Manifestia' >
30cm x 40cm
Oil on canvas
(4cm depth)
Gallery Price : US 555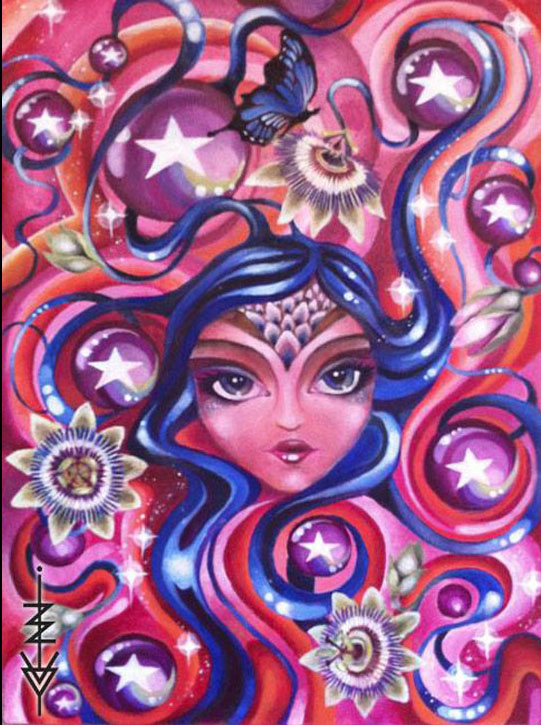 Energetic meaning : 
Manifestation, sowing the seeds of your dreams, as above so below, creating your reality, trusting what you desire is already happening, magic making, pollinating your wishes.
'Dream Codes' >
65cm x 45cm
 (4cm deep)
Oil on canvas
Gallery Price : US$495
Energetic meaning : 
"Beyond the Mind," Thinking with the heart, being present, heart and mind connection, getting out of our own way, meditation, the bliss of being, quieting the monkey mind, fathoming the unfathomable, finding happiness within, going beyond intellectual limitation.
'Transmission' >
50cm x 40cm
Acrylic on canvas
Gallery Price : $350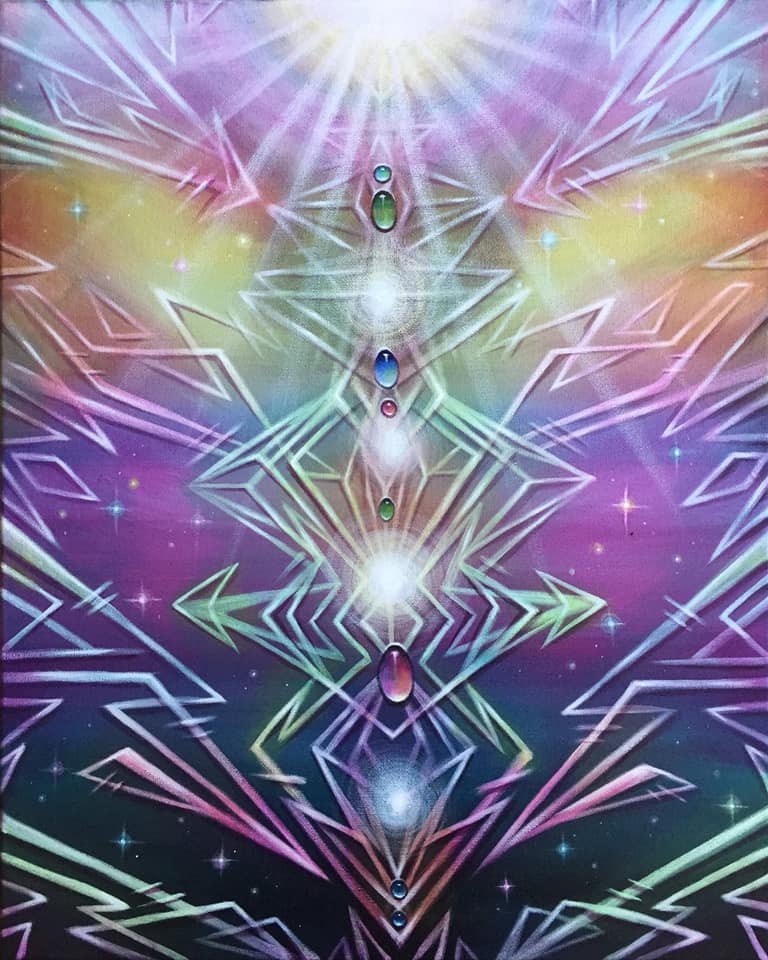 'I AM' >
50cm x 40cm
 (4cm deep)
Oil on canvas
Gallery Price : $444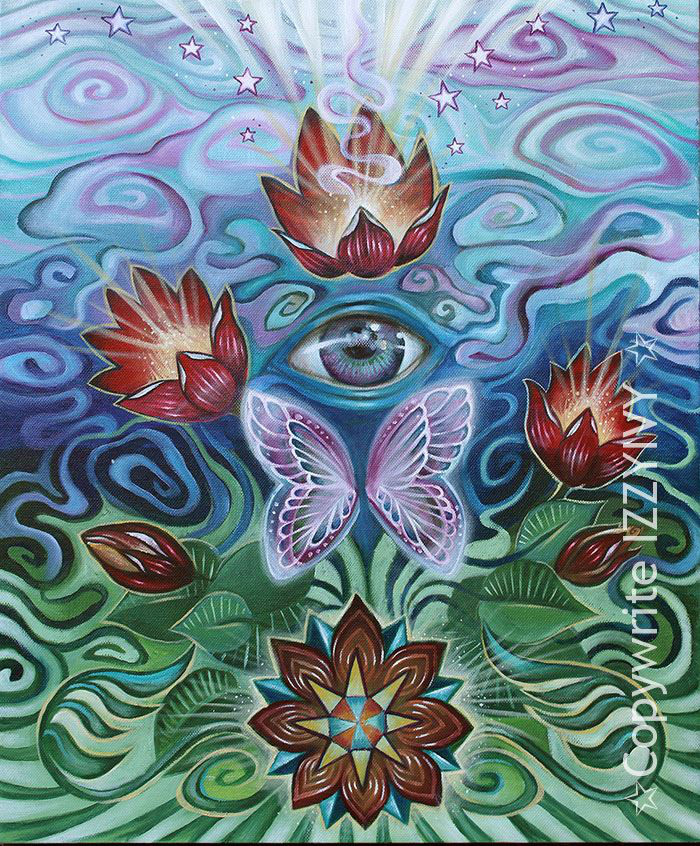 Hidden wisdom codes, potent information, Lemurian seed crystals, seeing your triggers as a gift, awareness of drama-creating patterns, healing the earth through looking at one's inner environment, healing through awareness.
Lemurian quartz crystals are special pieces of clear quartz with indented ridges running across them. They are known as seed crystals because individual specimens are said to be found buried in sand and earth rather than attached to a larger cluster the way most crystals are discovered. Aware of their oncoming destruction, the Lemurians imbued information about how to avoid a similar catastrophe on crystals and buried them. The ridges on the crystals are believed to be Lemurian inscriptions. These crystals are reappearing now as this knowledge is again relevant.
This card is about deciphering wisdom codes. We may wonder how information regarding our spiritual growth is available to us as we navigate our everyday reality. This wisdom comes through inner paradoxes, when we are truly present, when we are awed, in creative flow or allowing. It may come as riddles and in the most unlikely places. Zen Buddhism taps into this using koans, paradoxical statements the mind cannot fathom, so traditional understanding can be bypassed for spiritual epiphany and deeper knowledge of the soul.