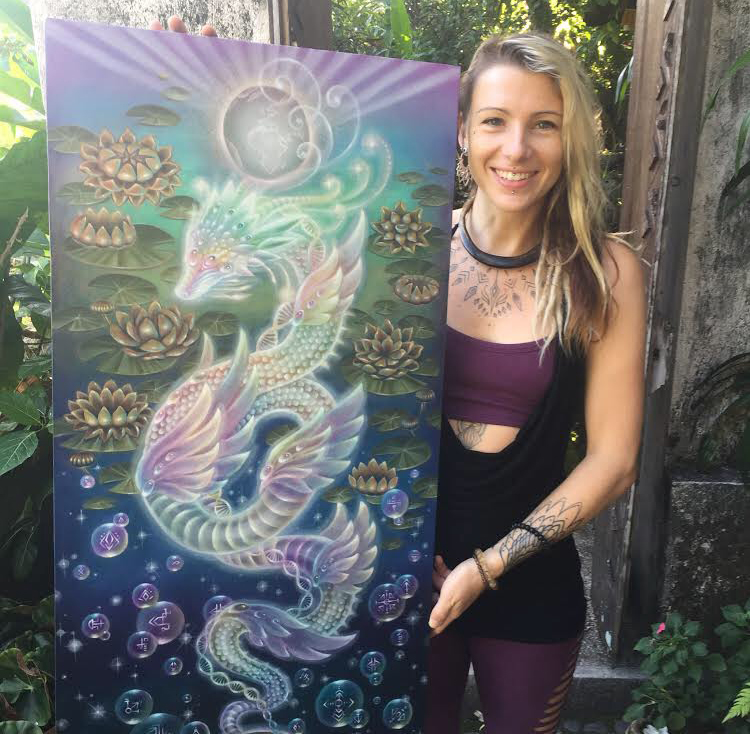 Izzy Ivy is passionate about grounding inspiring wisdoms from other realms, through word and paint, her art gives voice to her mystical experiences, adventures and all she encounters in her spiritual and healing work.
Following the whispers of her inner guidance and strong connection with Lemuria, she is a traveler; a traverser of multiple dimensions through her meditation and dance practices that help her access these elevated states. She is also a traveller of the physical globe, with a love for exploring different sacred sites and the magic of nature, 'Anchoring Light' through teaching art as a magical practice, as she goes.
Izzy feels incredibly inspired with reminding others that magic does exist and that we all hold the codes for becoming the greatest version of ourselves.  Fusing childlike innocence with all-knowing depth and strength in her characters, Izzy combines art with the spirit that dances her. Every image is seeded with subtle symbolism for the collective dreaming and keys to a deeper remembering.
Creator of Beyond Lemuria Oracle, Izzy continues to follow her dharma of combining hand painted channeled art with healing wisdom from the beings of light that she works with. Anchoring these codes into physical, by creating helpful spiritual tools for a shifting paradigm in the form of Oracle decks, large intricate paintings and portals in the form of exhibitions.
www.izzyivyart.com  /  Instagram:  @izzy_ivy_art  /  Facebook : @izzyivyart
Podcast Interview with Izzy Ivy sharing process, inspiration and journey through the etheric realms :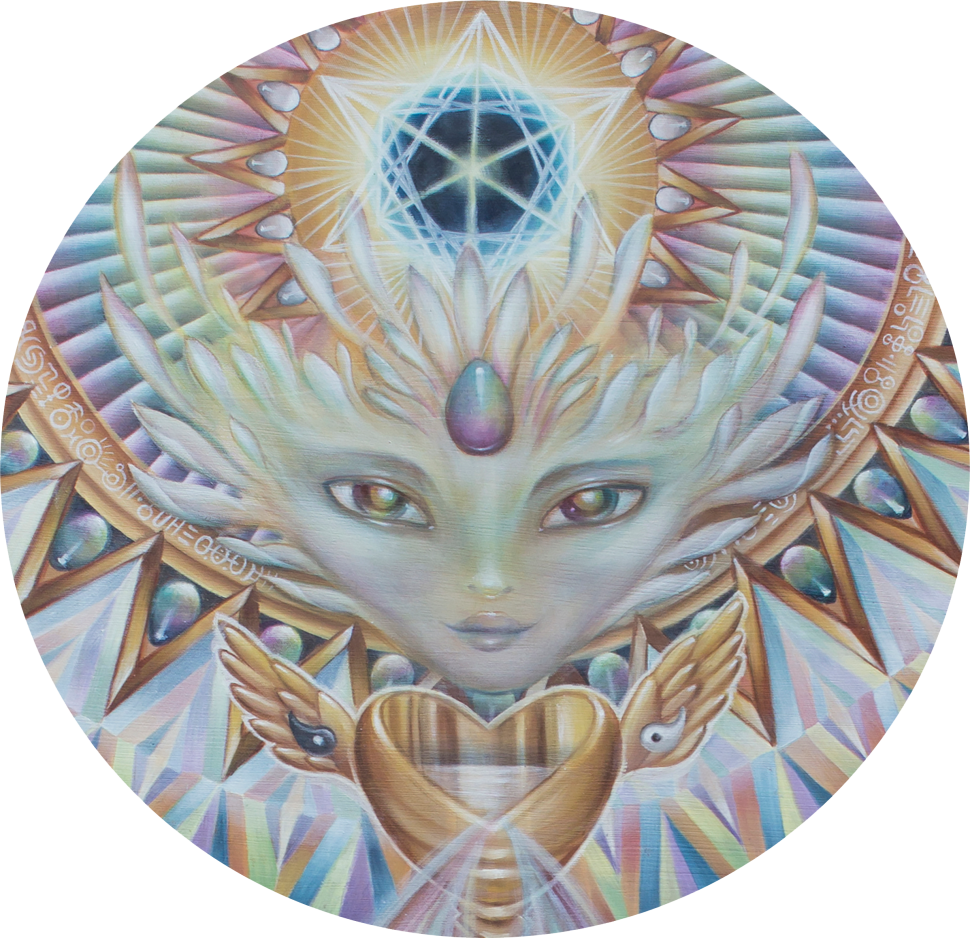 Biography – Life Story Version
Izzy Ivy is an international visionary art painter, healer and teacher specialising in facilitating expanding the horizons of the human experience through art. The easel is her alter and she is passionate about making  images that actively raise the vibration of the environment and observer. Through intention and devotion to spirit, she is dedicated to opening doorways to the greater reality, give voice to the unseen, grounding and activating the collective dreaming. Deep symbolism is adorned with colour, beauty and accessibility, she speaks to the heart, evoking a stiring in the soul, an awakening beyond the illusion, an unfurling to the remembering.
The creative and intuitive arts have been izzy's life and breath since she could pick up a crayon. As a child she spent all her free time composing music, re-designing everything she could imagine, and exploring how to create 3-dimensional objects. Art, textiles, graphic design and psychology was her focus at school however she chose to focus on costume design and film-style prosthetic puppet-making, where she completed a BA degree with hons in Nottingham in Theatre design with top marks. Choosing that subject due to its perceived composition of all creative elements and it appealing to her ambitious nature to dream big. Although both her parents were painters and illustrators she had no desire to follow in their footsteps.
After University she focused her costume design into wearable faery and goddess clothing inspired by ritual wear. Feeling inspired by natural fibres and crystals and that a sacred garment could transport you into feeling like you had wings and access the most magical part of one's self. Immersed in the fae world, pagan influence and festival culture, she found herself influenced by this. This project took her to India where she was based for a while as she set up the business and was further inspired by the incredible colours, fabrics and culture. This is also where she was first attuned to Reiki.
She ran Zizzyfay throughout most of her twenties, traveling to different parts of Asia to create the designs, whilst continuing to explore Reiki and other healing modalities. The events that her clothes were sold at also opened opportunities to meet other souls on a path living unconventional lifestyles and her world continued to open as her awareness that the world we are so accustomed to was just the tip of the iceberg. She put every ounce of her heart and soul into the business, but because she wanted to create complex almost sculpted designs with incredible fabrics and only use the best tailors, she perceived the niche that she had found did not match the cost for which could sustain it, and realising that she never started the business with the focus to make money it was time to reconsider things.
During this time she focused on learning and teaching herself how to run a business and all the finer elements involved in this. She transmuted her blockage around computers and created worlds through the medium of various websites, diving deep into photoshop and visual marketing as well as honing her customer service skills, including all the logistical elements of having one's product get known in the world. These designs evolved, paralleling her own journeys of inspirations into mystical realms including incredible Elven wedding dresses.
The business felt less and less creative to her and she started to allow other elements to support her income that were in alignment with her souls philosophy. She has been practicing circus performance and fire dancing since her uni years and this become her profession alongside practicing Reiki and body work professionally at a healing centre during her time in Sydney, Australia. Although Izzy was born in England, she moved to Australia when she was 24 simply by following the whispers of her soul and working hard to make it happen, she explored living in various places on the east coast eventually grounding in Byron shire.
When she was 29 (Saturn return) everything changed. After a trip to Japan where she started drawing again inspired by the culture, her new beloved at that time, introduced her to oil paints. This was a game changer as although she felt a strong pull to paint after a profound spiritual experience a few years earlier, the paint medium she had used was totally uninspiring. She felt the oil paints were much more like clay, they were fluid and she could dance with them in a way that incorporated everything he loved about the creative process up to this point, somehow this encapsulated it all. Furthermore at this time her psychic awareness and downloads were starting to come in strong as she realised the messages could be perfectly conveyed through this medium. Her Synesthesia the perfect tool to convey information beyond the mind and to an audience that spoke beyond all languages.
Painting took her world by storm and she was painting all the time, she let go of  Zizzyfay, to allow more of what lit up her soul, even when simply living on the avocado tree in the garden, she knew that this was her calling and the universe would support her as she felt its breath in every brush stroke. Alongside honing her skills in the studio she loved to paint live in places of high energy creating large powerful images from start to finish in just one sitting in front of sometimes thousands of people (on stage at music festivals), In sacred ceremonies and even weddings, she also created channeled spirit paintings.
After her first solo exhibition, only a year into her newfound passion, someone saw her work and she was commissioned to create the illustrations for an oracle deck for children, 44 paintings in alignment with Nathan Ho's messages and meditations. She completed this in just over a year, basing her self in parts of Asia as a way to keep living costs affordable whilst also but also deepen her spiritual practice including taking the last instalment of her Reiki Master training and doing Shadow work training with Lujan Matus.
Practice makes perfect and having this intent to complete at least one new painting a week further honed her skills and confidence to be able to paint almost anything.
During this time she also continued to work on her bikini design business. Rewind 5 years to swimming in the ocean in Thailand and feeling her deep connectivity with the water element and noticing how (at that time) there was no magickal attire for feeling like a goddess in water.
After creating her sacred ritual wear and considering  a more business-savvy take on this, including aligning a more aligned lifestyle reality. She dreamed up the idea of having beautiful crystal and sacred geometry adorned wear for the beach, yet at that point didn't have the fabric design. After painting for a year and specialising in goddesses, it was perfect to revisit this idea by printing fractalized sections of these images on to the fabric, imbuing the essence of that goddess in to the design for further magick. Created with the idea to make all women feel like the goddesses they are in petite to plus size, paralleling her own healing journey the honouring of blessed body-love.
This project also had its own undulating journey, funds were created from the children's book she illustrated (a lesson in the realms of being specific about taking on commissions), and then having the perceived blessings of an investor but the lesson of not being able to trust her own strong intuition and the 'opportunity' to have this awareness for the future! The later generations of this project continue to be popular and a nice wearable counterpart to literally being able to step in to one of her magical artworks. It also furthered necessary growth full lessons creating a more optimum entrepreneurial understanding.
After a few years of having her identity confound around 'being an artist' she was aware that although she had the skill set and visions within her, she had not yet really created any paintings that were more than a handful of days worth of time since her first year of painting. She wanted to create Masterpieces ! She honed her skills a little more with when she attended a painting intensive with Daniel Mirante and learned some new tools which she adapted to her own style, however there was an internal shift that needed to happen…
When Izzy was 32, on visiting her "little' brother for his wedding in America. She found herself questioning everything about her life to this point. momentarily comparing it a conventional reality that she found herself in within this family setting. Re-evaluating the notions of success, and wishing she had followed her soul calling to become an artist earlier. Despite working extremely hard she had witnessed another difficult year of barely being able to support herself. Then during a 'dark night night of the soul, where she allowed herself to fall into endless dark void (she was studying Theta healing at the time), the apparent core of all fear, suddenly she found herself in the void of brilliant bright white light, and realised it was one and the same. The next morning everything was different, and it was time to step things up again…
She had news that the publisher accepted the proposal and were excited to take it on. Blue Angel created many of her favourite oracle decks to it was a great honour to be having them actualise these cards and distribute them around the world.
She had been working on her own deck of Oracle cards periodically since she discovered oil paints, a creation that would originally going to be written by someone else, yet she kept receiving messages physically and intuitively that she would write it herself. Once she accepted this realisation, the psychic information came flooding in, what it would be called the theme, places she would visit on the planet to gain further information and that she would be guided step by step to it creation.
This was the beginning of 'Beyond Lemuria'.
Over the next few weeks she took the opportunity to overhaul her businesses into something more manageable and started an Instagram. Little seeds which had been gestating underground started to sprout and she realised she had nothing to regret as it was all perfectly timed for different learnings that were all necessary.
"The Intuitive Child' Oracle Cards were released (self published by the Author) and Izzy found myself doing interviews, she had the opportunity to be invited live paint at Alex Grey's Cosm and had a large ethical health food brand graphic design Job come in which meant she could fund getting to the Total Eclipse gathering she had been invited to live paint at. The generator had started and after that incredible experience of painting amongst talented painters from around the world, she started to make connections, and then the funds from selling the piece it allowed her to travel to some special parts of America afterwards, including spending some solo time at Mt Shasta and painting the channeled piece on the mountain that would end up holding all the codes to her Oracle deck..
She found this time in America to be world-shattering as it seemed there was no glass ceiling here and the size of her ambition was celebrated rather than tempered and after spending a handful of days with an inspiring artist friend, she returned to Australia to carve out some time, stop everything else, and just paint. Returning to the knowledge that somehow it would all be ok, if she followed her heart.
After that trip away, Life was never the same, aspects and people that were no longer aligned fell away. Life became simple with Yoga, beach and lots and lots of painting. As well as other pieces, three major works were created and she felt she was finally honouring her craft and anchored her dedication to it as a method of connecting to the divine.
Then one day Australia stopped feeling like home. realising she still didn't feel roots under her after ten years of being here, perhaps it was simply time to move her nomadic soul. She had the call to go to Bali, and with all her funds at the time, booked a one way. The next day I sold four paintings including one of the major works…. The Universe had her back.
Bali was another game changer, suddenly she could comfortably afford her own place where she had the energetic space to reach depths with my channeling like had not before. The paintings were almost finished for the Oracle deck and it was time to write it. She dreamed of the perfect sun-lit desk overlooking rice fields and she found it.
Suddenly she wasn't the other creative entrepreneur that didn't belong to any one country, who was attempting to create their own unconventional but soul-resonate piece of reality.
The next 4 months were dedicated to the oracle deck and of course every theme paralleled her life experience !
She also took part in a course on holding ceremonies and did workshops in Authentic relating where she busted through some blocks of leading and holding space in a group settings. Meanwhile people kept asking me if I would teach them to paint.
These components coalesced with her hearts desire to share the healing work she was called to do and what better way to do it than with art, after all the two were so interconnected for her. She realised group setting where what resonated, a creative deep dive held an intentional ceremonial space, with the key theme being getting out of your own way and letting spirit dance you !
'Anchoring Light' Was born. 2018 was the year to make everything she had ever wanted to do happen, which included a lot of travel. This is where she started touring, after test driving a few in Bali she anchored her first class in her home lands in Glastonbury in England. Then at various parts of west coast America, Alaska and Hawaii. She also did three solo exhibitions, live-painted at several festivals including Burning Man, where she was showcased as an international visionary artist. She was even flown out to Alaska to paint a mural in a yoga studio and teach her biggest class up to that date. It was also her dream since she was a tiny child to go to the Amazon rainforest. She spent time at an artist in residence in Tarapoto, and explored some pivotal experiences whilst harnessing the rainforest energy in to her creations.
"This year was really an experiment of what happens when one leaps in to the faith of total integrity with what your soul is singing out to do. What happens when you put your worries, tomorrows and doubts aside and just act like it is already happening as you want it to be … and letting reality catch up !"
2018 was completed with her writing the Reiki manual for her students as she felt after 13 years of practice she was ready to step into the role of teacher. Although it includes all the traditional Usui aspects  for the certification it also adds elements that brought it up to date with the current paradigm. She could not ignore the universe's nudges any longer and she taught her first and rather large class with wonderful response..
2019 was another big year, a continuation and evolution of the year before. Izzy returned to Australia after a year of being away. She was blown away by the response of her workshops and the way her art was being received here. After letting go of over 90% of her stored belongings, her car failed and crashed, writing itself off. It was truly a time to let go of anything that was not holding heavy outdated energy, and time for a more minimal lifestyle.
During 2019 although Izzy was based in Bali, she continued to travel, sharing 'Anchoring Light and her 'Lemurian Roots Reiki', Live-painting at large festivals as a featured artist, and partaking in solo and group exhibitions. This happened across four different states of Australia and various parts of west coast America. She also Travelled to China to paint a mural and do an art exhibition and took a short painting course with Micheal Fuchs.
Whilst in Australia she live-painted a channeled piece that captured the energy of the ceremony at a wedding, Meanwhile the bride wore one of her more recent ranges of wedding dresses (she has recently created a new range and rebranded it Unfurled Bridal) !
During her time in America she visited sacred sites that were calling, such as Sedona, Kaui and revisited Shasta, She did an extensive solo exhibition in San francisco called called Galactic prayers with 24 original paintings. She also completed the final edit with the publishers for the book that accompanies the 'Beyond Lemuria' cards.
In between travel and booking the logistics of making this all happen, Izzy painted at every spare moment creating some incredibly special pieces holding information inspired by a particular download in March and a transmission in August connected to the great Central Sun.
She has started creating the her next oracle deck "Unveiling the Golden age.' The sequel to 'Beyond Lemuria' and a tool for leading intuitive group guided meditations and visioning in the world we wish to see.
The year was completed with her visiting England for the first family christmas for 10 years where she also held a workshop and was intrigued to observe participants flying from other parts of Europe to be a part of it.
As Izzy stands on the precipice of 2020, a few days before her 36th cycle around the sun, she senses things are just about to get really interesting… Workshops around the planet have been booked along with longer retreats, collaborations, solo exhibitions and festivals. There is a new ethical activewear clothing-range in the mix that incorporates her art, as well as the intended completion of a 7 piece earth transmutation central altar series.
 'Beyond Lemuria' will be released in March.
She also plans to work on her new oracle deck and explore places she has not yet travelled. Meanwhile she seeks to maintain a balance between passionate ambition and the peaceful flow-state of dancing with the divine.