Personalised Spirit paintings – A channelled blessing captured on canvas
<< There is a bit of a waiting list with creating these – If you would like me to get in touch when I can create one for you please add your email address here>>
There has always been a channelled element to my paintings, being particularly drawn to capture the energy of places and the unseen especially live at events. I also create these for people – Combining my synthesis of intuitive healing work. Allowing what comes through during a session to be anchored in the physical, for the continuation of this loving light to flow though, by having it up on your wall in your home. I am always blown away with what comes through and they are received!
I can also do house blessings and baby blessings, Great as alter pieces too.
How it works :
I tune in with a distant reiki / my own synthesis of intuitive energy work and immediately paint what comes through. Being in this receptive state as I paint, more visual information unfurls in this intuitive flow.
You can let me know if there are specific areas you would like to focus on, (i.e. – emotional, physical, spiritual) or to intuitively flow with the simple intention of  visual medicine for your 'highest good' / what s most beneficial right now.
I then send you the painting in the mail.
If you would like me to create this for you, Please contact me here with the following :
A photograph of yourself or a link to a page/eg fb insta where I can find an image of you.
Some words on what you would like the intention of the painting to be – optional.
The address you would like to have the piece mailed
Your Paypal email. (no problem if you don't have this).
The name and artist of your favourite song (right now or in general) – optional.
REGULAR SIZE – 30x50cm
MEDIUM – 40x60cm
LARGE – 50x75cm
REGULAR SIZE – USD$280  /  AUD$395    / £220
MEDIUM – USD$390   /   AUD$550     / £305
LARGE – USD$490  /   AUD$695      / £385
Postage Prices During Covid
Unfortunately because there are very limited flights happening because of the covid situation only the express option is available for mailing these piece, therefor currently postage costs are higher than usual. Here are the costs to USA to get an idea :
Small size : US$70
Medium : US$95
Large (50x75cm) : US$165
Postage costs :
USA, Canada, South America
REG : US$40 / MED : US$50 / LARGE : US$60
Australia, NZ, Asia
REG : AUD$30 /MED : AUD$40 /LARGE : AUD$50
England and Europe
REG : GB£20 /MED : GB£30 / LARGE : GB£40
More info:
With a 13 year reiki journey, plus exploring Magnified Healing, EMF Balancing and Theta Healing. Ive been feeling spirit tapping me on the shoulder to start a deepening of of this energy work, but with my own take – expressing it in my own language – through my art work.
I have always been synesthesic, experiencing information and concepts as colour and shape, This visual interpretation is perfect for explaining the non physical such as energy .
Live Painting at Conscious Events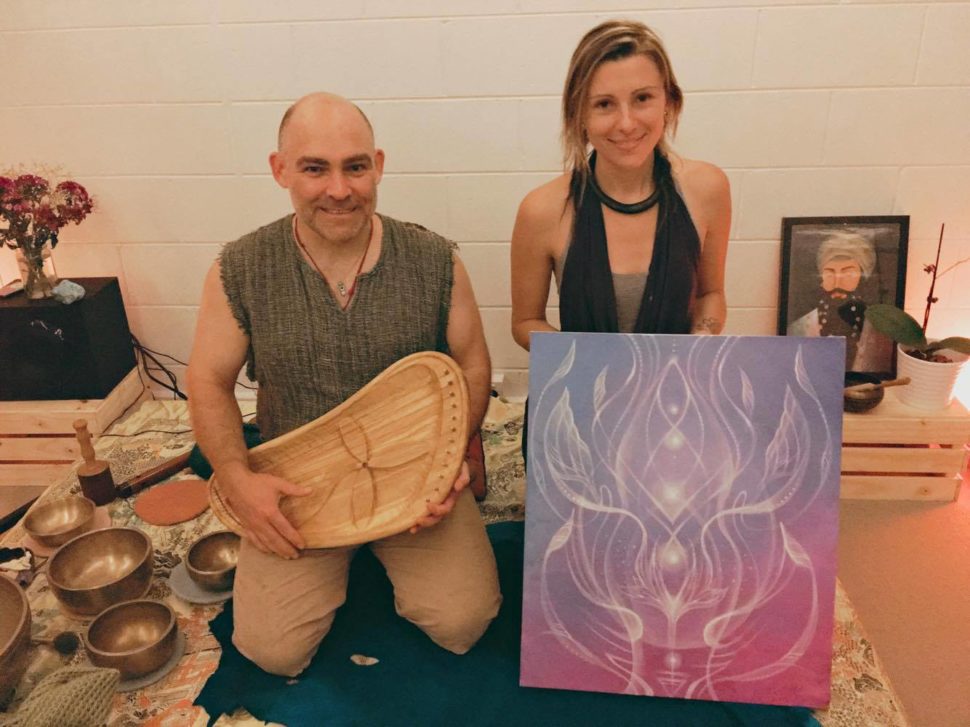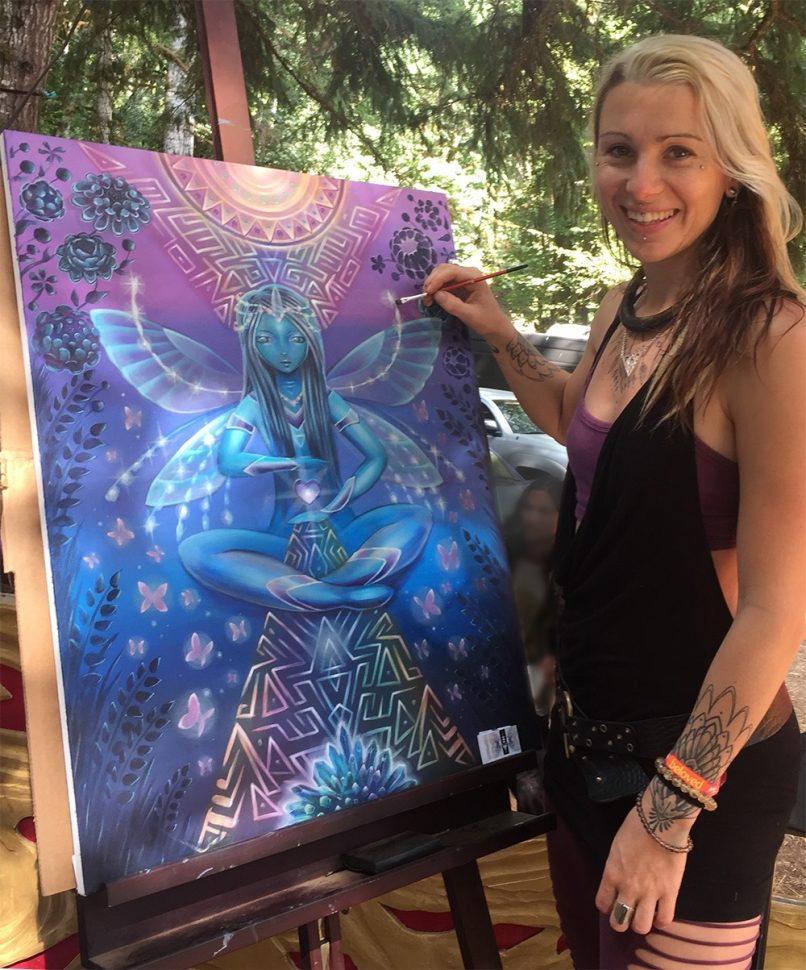 I also capture energy at events, channeling the energy on canvas. Creating Paintings from start to finish during ceremony and live music.
I have live painted (often on stage) at a wide array of festivals, At Weddings capturing the feeling of ceremony, I have also created a visual depiction of healing modalities and also the essence of ethical businesses for an intention-aligned  logo. I have captured peoples guides or multidimensional forms and painted at Sacred sites across the planet to see what comes through…
You can see more of my live art here