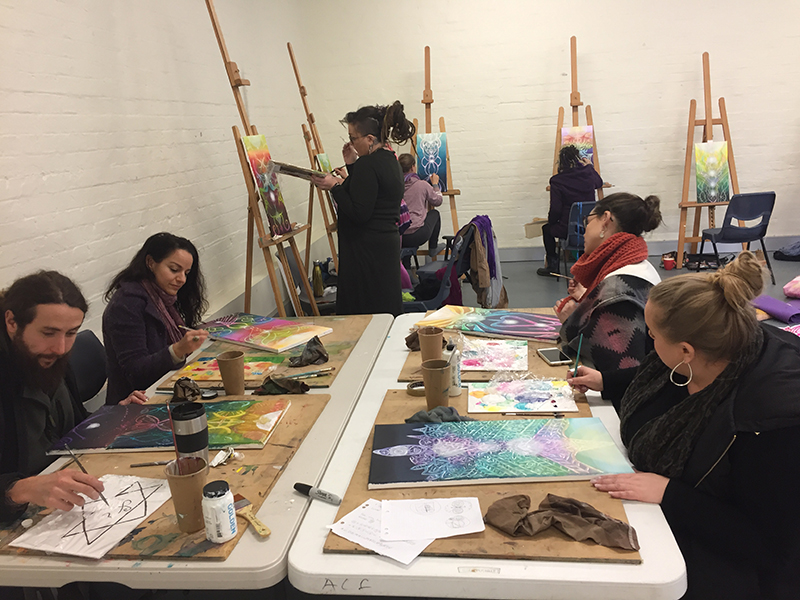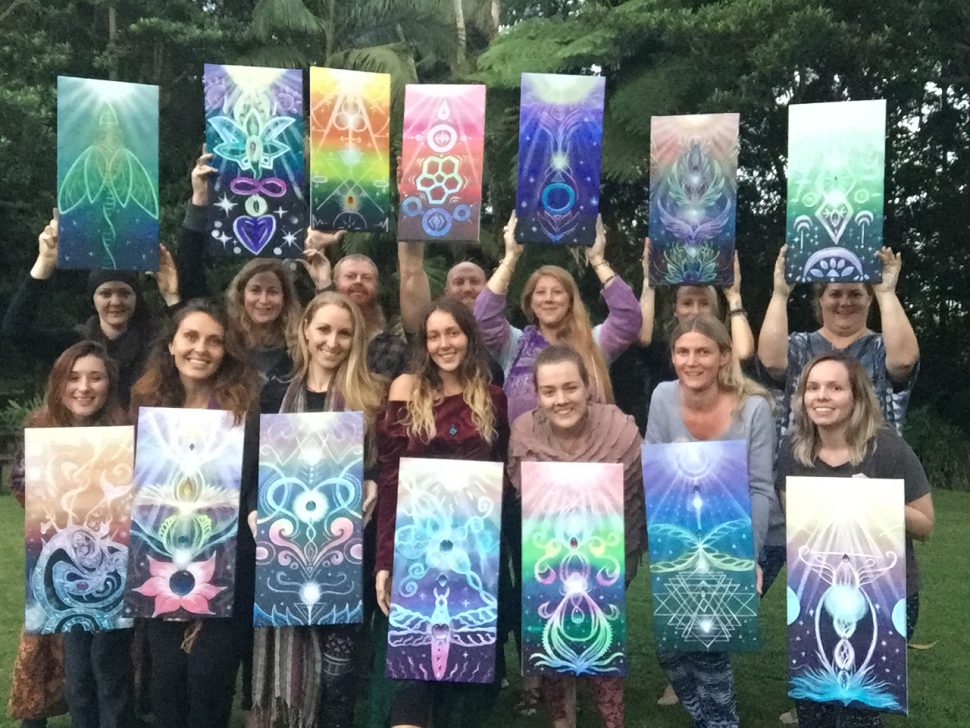 Have you ever wanted to paint magic ?
Do you feel like you would like a deeper understanding of the energetic realms ?
Do you feel you would like to explore your own innate healing abilities and creative language ?
Combining my two greatest passions – healing and art, I am offering a two day course, a combination of practical, wisdom shairing and guided journeys, for a deepening to your sacred painting practice. Learn technique, unlock your unique energetic key codes and imbue intention. Focus is on finding your own creatively language and attunements that are totally unique to you.
no painting experience required, however will cater for a range of abilities. 7 hours of tuition per day.
Including Art materials, Paints, Canvas included, but if you have your own that is great too
We will be working with acrylic paints but using a medium that gives us more or a oil-paint effect fluidity.
Fusing ancient/traditional techniques in art and magic and weaving these with the current paradigm. Sharing the secrets and revelations of my own creative and spiritual discoveries.
Through deep guided journeys, we discover unique power symbols we each hold within, unlocking more of who we are as artists and healers. 
Anchoring this process as we traverse these inner realms on canvas. Seeding a creatively empowered new chapter and an array of new technical skills.
A coalescence of painting technique, reiki, guided journeying and ancient symbol magic, Honoring life-force energy, light and shadow work with it roots in a ceremony. …The easel is your Altar.
Feedback from some students from my last class –
"You really inspired me in so many levels izzy. i feel like in your workshop i received an energetical artist upgrade. and now from that energy i'm taking very bold steps towards my highest excitements and visions associated with my artistic path. so deeply thankful to you! "
Malia
"This was the best workshop I've ever participated in and if anyone gets a chance to do it then I highly recommend it! We learned SO much but also felt creatively nurtured, highly inspired and the group energy was immense. The mediation journeys unlocked parts of the soul and mind to pour down onto canvas and I've never felt so confident with a brush before, normally reverting to pens… I've started a second piece now to channel all the new skills I've learned. Thank you so much Izzy Ivy for such a magical experience xXx"
Zara Ellisreid
Your workshop in Glastonbury was amazing, thank you so much.. Learnt loads, had an amazing deep healing experience and made an art I'm really happy with to boot. The whole weekend flowed perfectly and it was such an honour to paint with you. From this picture it looks like you've just done done much the same again.. Massively recommend Izzy's workshops to anyone who feels drawn 
?
?
?
Sarah Phoenix
Izzy created such a safe and open space for everyone taking part in the workshop to connect and be honest and vulnerable with one another. It was very magical and such an enjoyable experience. Izzy was so forthcoming with hints and tops and advice for how to create beautiful artwork and I left feeling reinvigorated and inspired. I would highly recommend to anyone and everyone. 
Alana Tailor
Thank you for this experience Izzy and to all the powerful women that attended. truly experienced a magical shift in consciousness, healing and self love. You are magical. 
Charlotte Parsons
I just wanted to reach out personally and thank you for creating such a beautiful container for creating such amazing art. I'm still buzzing with energy from that wknd and get this amazing sense of ease that overcomes me when I feel back into that wknd. I meet so many amazing women and am great full to be in touch with a few still. They motivate me to create in whatever form I wish to express myself. Thank you again I truly appreciate what you created for us and what you will continue to create.. much luv always.
Jaro Obregon
Izzy has been practicing Reiki for 12+ years, a certified teacher of this modality, she also has experience with Magnified Healing, EMF balancing, Theta Healing and has honed her own style of intuitive healing. She Has been a creative bridging the unseen realms for many years, has been a channel using the realms of visual art for the last 5 years and has just completed illustrating her 2nd Oracle Deck 'Beyond Lemuria.' Spirit is now calling her to overflow the magic, anchoring this light through intuition and focused flow.
See more recent Larger Class group pictures HERE