Guided vision-journey Art workshops
"People often ask me how I capture what I experience in one realm and bring it in to this one with my art… so alongside my resonance with leading intuitive guided meditations and in alignment with my healing work – I have been inspired to share these in workshops.
Healing Guided meditation, journeying deep in to your imagination, bringing through elements relevent to one's life right now and anchoring them on paper …
Participants are guided on a magical, healing, heart-based, luminous journey, opening up their imagination and wandering through their minds eye.
Adventuring through multidimensional realms and observing themselves from a higher perspective, the experience is uplifting, relaxing and playful.
We then bring relevant visual information back with us and crystallise in the physical plane on paper. The focus is not on creating a replica of what was experienced, but a more symbolic representation that will enable transportation back to the healing sanctuary we co-created during the visionary journey.
These image captures can then be used as a platform to work on more elaborate pieces – in the near future I will extend the workshops to teach more technical aspects of creating other worldly paintings.
I can supply paper and pencils, but participants are also encouraged to bring their own art materials if they wish to spend some time working on these pieces after the workshop is finished. There is no minimum group size."
I have been recently holding these workshops at festivals around Australia and Im always blown away with what comes through !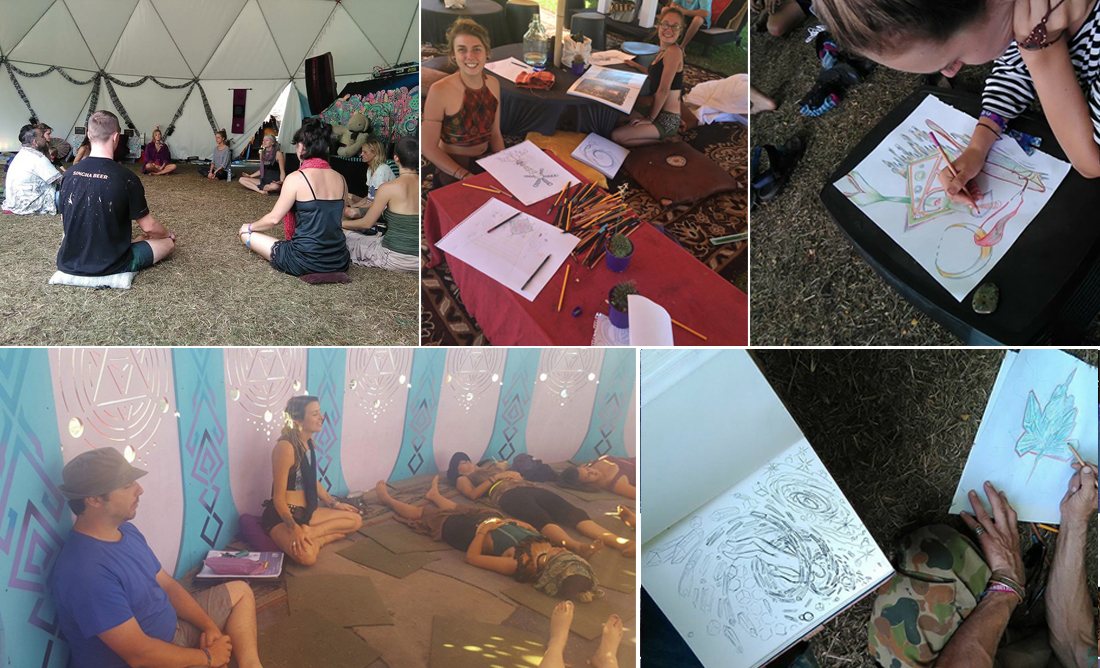 Feedback from my first class:
Hi Izzy. It was great meeting u at the Arts shed last Sunday.   I want to let u know that after your mediation I was flying high.  It was asked of me later in the night if I had taken something…. so thank you,  Char (Byron Bay, Dec 2015)
I did this workshop with my daughter and highly recommend participating in izzys enchanting, vibrant visual journey through multi dimensional planes. <3  Jaqui Fae (Byron Bay, Dec 2015)